May 4, 2017
First tyres in new Aeolus NEO series now available
-PRESS RELEASE- Heuver Tyrewholesale supplied the first tyres from its new NEO series last week. The tyres in question were the new NEO Allroads T2 trailer tyres, which feature M+S markings and can be supplied from stock in size 385/65R22.5. This was the first tyre that Aeolus developed in the new truck and trailer series and underwent 2 years' practical testing. The new NEO range has been manufactured using the latest technology - including 4-layer strip technology - and is Aeolus' response to more renowned brands.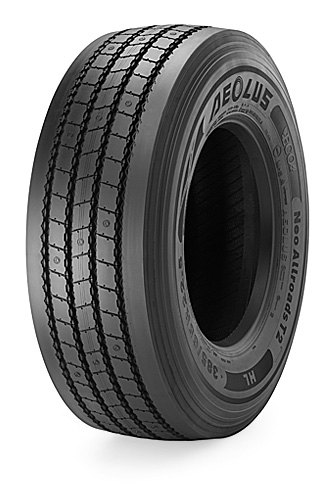 Surplus in kilometrage
Bertus Heuver, director at Heuver Tyrewholesale: "Aeolus has managed to claim a strong position in Europe in recent years. These days, the brand tends to be front-of-mind when people are looking for new high-quality tyres for their truck and trailer fleets. And we expect this position to improve further with the NEO series. The advantages of Aeolus tyres - their price/quality ratio and thus improved returns – should be further reinforced with the NEO series. Very good results were realised during practical testing over the past 2 years. The NEO Allroads T2, which is Aeolus' new trailer tyre, helps to increase kilometrage by up to 25%. This can help to considerably improve commercial returns for our customers."
Strong response
"Aeolus is targeting the top of the market. And this objective is always given priority in research, design, technology and quality", says Bertus Heuver. "The partnership with Pirelli will also offer added value for both brands. At this moment in time, customers are already benefiting from modern tyres that Aeolus has released under the NEO series. NEO tyres are available for all axle positions. Thanks to the implemented technology and production methods, they comply with European norms and values. They have a modern profile and meet all European requirements when it comes to e.g. M+S markings and the snowflake symbol. The tyres are exactly what European customers are looking for. Aeolus' NEO series is a strong response to tyres by the more renowned brands."

You can find Aeolus Tyres everywhere. Even in your neighborhood!