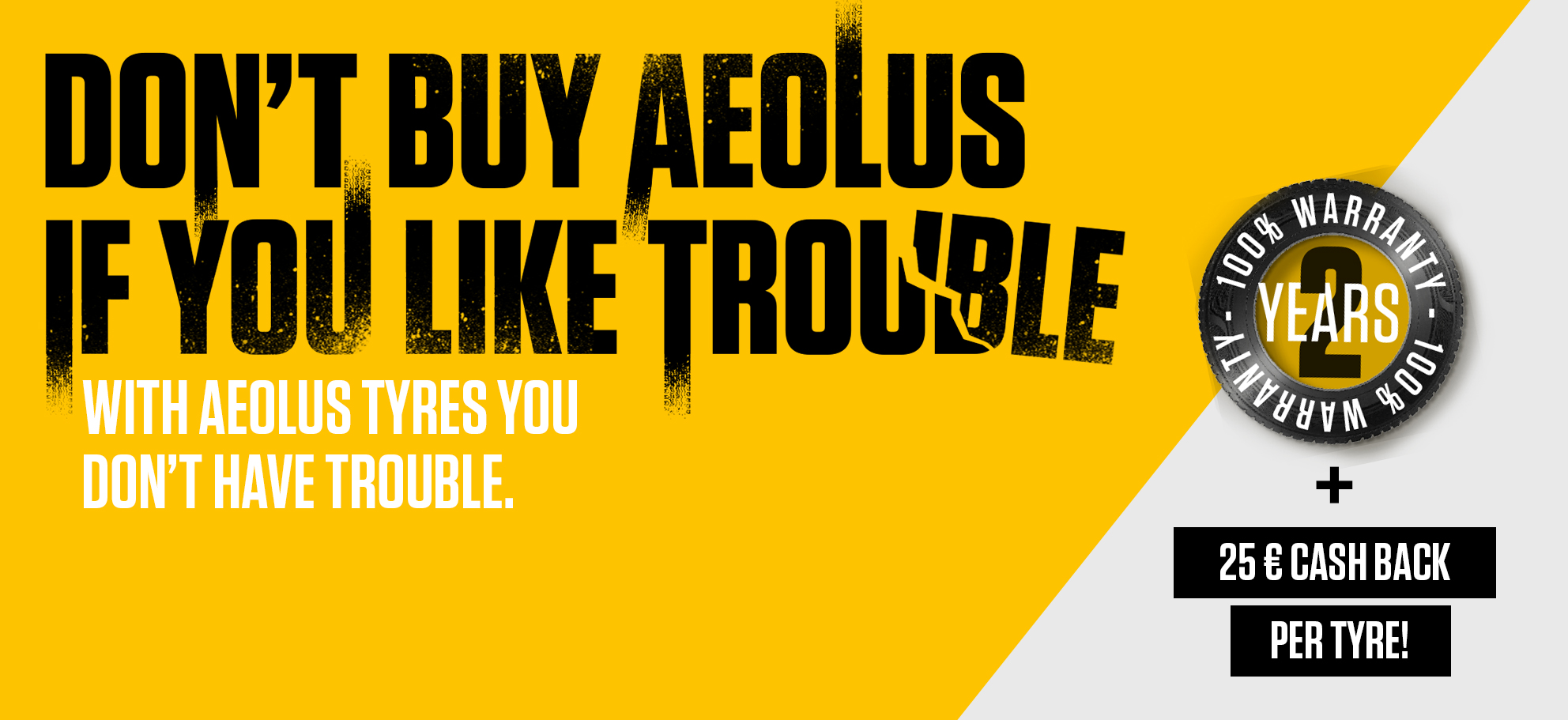 3 reasons to choose Aeolus NEO tyres
We are convinced that Aeolus tyres are the right choice for you, no matter what. Why? Thanks to our many years of experience, our tyres are real quality tyres according to the highest European standards, produced with the know-how and license of Pirelli.
That's why you buy Aeolus:
The Aeolus NEO series meets the highest European quality requirements
All common sizes and patterns are directly available from stock
2 years 100% warranty on our NEO series and temporarily € 25, cash back per tyre!

Why are Aeolus tyres so good?
With 5 technical arguments we substantiate that our tyres meet your wishes under all circumstances:
GRIP
Don't buy Aeolus if you like trouble, because thanks to the European rubber compound with a high silicone content and refined tread structure, the tyres offer perfect handling on dry and wet roads. Perfect score on grip, so there are no problems.
LOW NOISE
Don't buy Aeolus if you like noise. The optimised tread design and the anti-wear layer in the tread compound ensures that the tyres are low-noise and you drive your truck comfortably.

COMFORTABLE DRIVING
Don't buy Aeolus if you like rough rides. The NEO series offers a high level of comfort thanks to the patented European SATT casing design and the sophisticated asymmetrical block design.

LOW FUEL CONSUMPTION
Don't buy Aeolus if you like pumping gas. Because the tread compound and the refined tread structure ensure a low fuel consumption, so you need to refuel as little as possible.

EXTRA LONG LIFESPAN
Don't buy Aeolus if you like wasting money. Our tyres are very economical for your wallet. The rubber compound with a high silicone content ensures high mileage. Perfect score on longevity.



You can find Aeolus Tyres everywhere. Even in your neighborhood!